How To Read a SPIRITUAL Book:
The Balanced Use of Discrimination,
Open Heart, and Spiritual Authority
by Chris Tong, Ph.D.
Practical Spirituality Series, Book 12
Publication Date: October 2002
ISBN: coming soon

Online Price:
$5.00 eBook (PDF)

"You do not approach a Sacred Text as something objective, relative to which you are objectifying or abstracting yourself, and which you are trying to win over or become superior to. You must allow the Sacred Text to speak to you as you are, where you are, at the level of your own being, and in the context of all of your functions. You must allow it to work as a subjective voice in your own case, to help you win over yourself, find yourself out, transcend your own limitations.
Spiritual study is purposed for ego-transcendence. Therefore, it is not a matter of struggling with the Text or the Spiritual Teacher, it is a matter of struggling with yourself, using the Sacred Text to test yourself. And it is always that -- and, fundamentally, it is only that."
Adi Da Samraj, May 4, 1987
To read spiritual literature with receptivity and discrimination requires us to understand several things:
how the spiritual experience of saints, yogis, and other Realizers relates to Reality Itself;
who are the genuine Spiritual Authorities that can establish the "ground rules" by which we can rightly understand and appreciate spiritual literature;
the Spiritual Realization of the people and phenomena being described;
the ground rules under which the authors write (e.g., hagiographers, scriptural deconstructionists, and New Age authors, will have completely different intentions, and will describe the same subject matter in completely different ways, and draw completely different conclusions from the same sources);
the social and political forces that may have influenced or altered the source over time;
how to read with spiritual receptivity, rather than the usual, merely conventional, skeptical mind that unwittingly robs one of spiritual opportunity.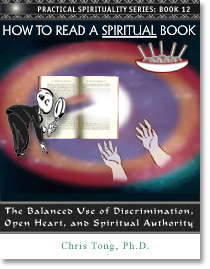 Table of contents
(coming soon)